MARK'S (NOT SO) DAILY BLOG
The latest Apple announcements (without the jargon)
Firstly, apologies. I used to blog every day, which slowed to once a week, and now its been 2 months! Shame on me. The reality is though I simply run out of time at the end of each day. Most of my spare moments are dedicated to getting up at 4am and studying (been doing an MBA over the past 18 months, with another 2.5 years to go).
Having said that though, when Apple held their live media event, the world stood still (well, for me anyway). To say I'm an Apple nut is an understatement, so I was ready with my pen in hand and red wine on the table.
This was probably one of biggest Apple announcements in recent years simply because it's a major advancement with the new iPhone.
To clarify, Apple revealed 3 new iPhones. Two of them were par for the course as it was a natural advancement from the existing iPhone 7 and iPhone 7 PLUS... except the advancements were bigger than usual so they skipped the naming convention of calling them the iPhone 7
S
and iPhone 7
S
PLUS and Apple went straight to calling them
iPhone
8
and
iPhone
8 PLUS
.
This meant that the third iPhone they released (which for months we called the iPhone 8) was named the iPhone 10 (but written as
iPhone X
). Why 10 and not 9? Simply because THIS iPhone is leaps and bounds ahead of even the other 2 new iPhones and the nomenclature refers to it being 10 years since the launch of the original iPhone.
So what is new about the 3 iPhones . Well, here is the non-gadgety summary that my wife understands:
iPhone 8 and 8 PLUS
Harking back to the days of the iPhone 4, it's now once again glass on the front AND back. You better get a phone cover! It's faster than the iPhone 7 and comes with stereo speakers. It has a better camera. You can now charge the phone wirelessly by laying it on a charging pad.
iPhone X (pronounced "10")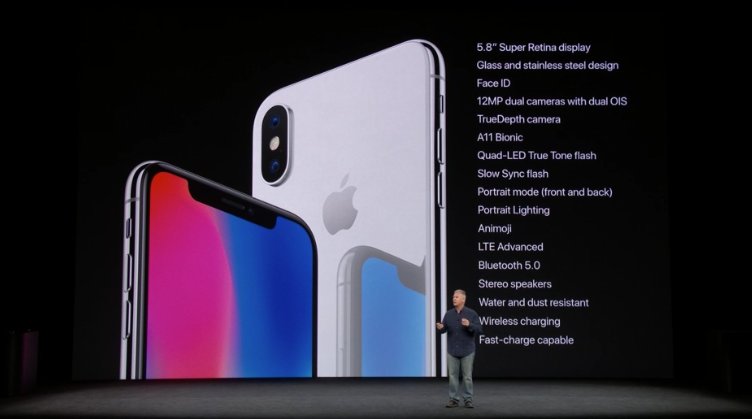 This is pure beauty. It's the first iPhone to use an OLED screen, which is thinner and more energy efficient. It makes the colors so much richer as well. What I love about this phone is that the screen size is BIGGER than the big iPhone 8 PLUS, yet it's body is SMALLER. Huh? How can that be you ask? Well, the screen takes up the entire real estate of the phone (no borders). As we do more and more browsing on our phones in recent years, i've always felt my iPhone 7 screen was too small, yet the bigger iPhone 7 PLUS was just too big for my pocket (trying to squeeze it in the pocket of my skinny jeans required immense skill and a readjustment of my doo-dab). So this iPhone is the best of both worlds. Smaller than the "big iPhone" with a bigger screen than the "big iPhone"!
Being a phone with a full screen it no longer has the round button at the bottom (home button). Now you simply swipe up to get to the menu.
It also now uses 3D facial recognition they call FACE ID to unlock the iPhone X (no more using your fingerprint). The "3D" part is important because with some other smartphones that use 2D facial recognition, you can hold a photo of the owner up to the screen and the device would unlock. Not so with this baby. It uses depth sensors to know whether the face its looking at is real or just a picture. Even if you decide to wear a hat, wear sunglasses or even grow a beard...the iPhone X knows it's you.
It will release in the United States in November, so maybe you're a little optimistic if you put it on your Santa list for Christmas.
Apple Watch Series 3
The Apple watch is now the #1 watch in the world.
Software improvements includes it now alerts you if your heart rate is deemed excessive when you're not exercising. It also monitors your heart beats for irregular rhythms.
Cellular is now built in which means it can work independently from your iPhone. You can go for a jog and leave your phone at home. The genius part is, it uses the same cell number as your phone (which in my mind says it uses data calls rather than voice networking, but I might be wrong here). With this connectivity, it will also enable you to stream music live from your watch to your bluetooth headphones, once again, without your iPhone.
Apple TV
It can now stream 4K content (which is 4 times better than HD). This won't really be the big reason so swap out your older unit for a new version as we don't have much 4K content to watch. Having said that, if you ARE buying a new Apple TV, it makes sense to get the newest model so you are not left too far behind with technology. Everything at a price though! Netflix should give you a 4K viewing option soon (you would need a good fibre internet connection).
Conclusion
So the question most people are asking is whether they should upgrade their iPhone 7, and if so, should it be to the iPhone 8 or iPhone X?
The answer is simple. If, like me, you love gadgets and absolutely devour technology then the iPhone X is definitely the only option. Also, the biggest selling feature for me is the huge screen housed in smaller "real estate" than the iPhone 8 PLUS.
If you're not too fussed about bells and whistles and you have an iPhone 6 or 6s, it's time to upgrade to the iPhone 8, or wait a few weeks for a reduced price iPhone 7.
If you're not too fussed about bells and whistles and currently have an iPhone 7, an upgrade might not be worth the money.
See Older Posts...